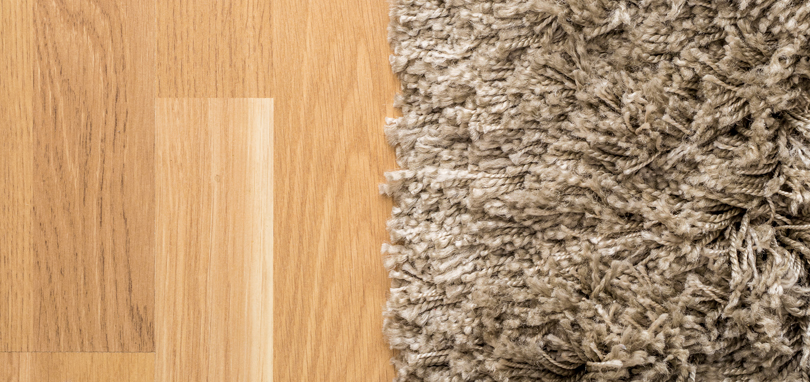 The winter holidays are done, and we've rung in the New Year! Perhaps one of your New Year's Resolutions was to spruce up your space a bit in 2019, and you've decided to replace your floor covering. Or maybe your business is expanding into a brand new building, and you need to decide what to put on the floor. One of the first decisions to make about new flooring is texture: carpet, or hard floors? Here are 4 things to consider when choosing between carpet and hard flooring for a new or existing space.
1. The Use
Lobbies, hallways, offices, bathrooms, and lounges have vastly different purposes, and might need very different flooring. Luxurious carpet may not be appropriate for high traffic areas, where it can be difficult to maintain its pristine appearance. On the other hand, an easy-care hard floor might make a lounge space feel too industrial and cold. There are no hard and fast rules, but considering the regular use of each space can help you start to sort out the type of flooring that you need.
2. The noise level
Is your space quiet and elegant, or fast-paced and exciting? The type of flooring that you choose has a big impact on the way that sound moves through a room. Carpet dampens sound, creating a quieter feeling in a lobby area, and making private conversation easier in a shared space. Hard floors, on the other hand, amplify noise and conversation. This can add an electric feeling to a busy creative space, and heighten the excitement of high-traffic areas.
3. The look
Are you going for old world elegance in your lobby? Sleek, modern luxury in your hallways? Carpet and hard flooring can both enhance a high-end look, but they do bring a different ambiance to bear. As a starting point, consider whether your aesthetic has a hard, bright edge to it. If so, a hard floor might tie in better. If, on the other hand, you want a draped or softened look, carpet is likely to better match your space. There are endless possibilities within each category of flooring, so even when you think that you know what you want, it can be worth checking out the options on the other side.
4. The cleaning
While a broom or a carpet sweeper can keep either type of flooring clean of visible dirt most of the time, carpet and hard flooring do have different cleaning needs on a regular basis. Carpets need to be vacuumed, and sometimes spot treated and steamed. Hard floors aren't as likely to stain, but they might need more extensive maintenance – such as stripping and sealing – more regularly. When thinking about the cleaning needs of each floor type, you might also want to consider how much down time your flooring will have for deep cleaning. If it's a busy space at all hours of the day and night, regular stripping and sealing of hard floors might be more disruptive than an annual deep clean of the carpet. If you aren't sure about the regular maintenance needs of each type of flooring, give the Resh Co a call!
For every type of flooring, the key to a fresh, high-end look is regular, expert cleaning and maintenance. Contact us at the Resh Co today to schedule a free maintenance estimate. Our floor cleaning experts will visit your facility and give you a personalized plan estimate, based on the types of flooring, level of traffic, and other needs. Call 410-780-9800 today to get started!